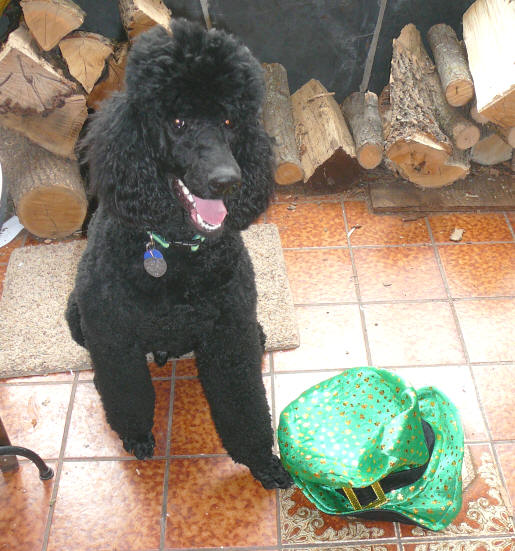 2007-2015
Limey was the world's first service dog specifically trained for an adult living with the challenges of FASD. He was placed into service one year prior to Chancer Winokur who was trained for a preteen.
Goal:
Living with fetal alcohol exposure presents numerous challenges to those affected as well as their caregivers.
Developing appropriate social interactions
Navigating through environments with little sense of where their body is in space
Integrating sensory information
Avoiding danger with minimal or no ability to understand cause and effect
Responding to stimulus with an unregulated arousal system
Since the initiation of this project in 2007, it has been documented that service dogs can help persons with FASD live more fulfilling lives. The ultimate role of the Service Dog is affording the individual more independence and autonomy.
Service Dogs assist individuals affected by fetal alcohol in many ways:
Service dogs provide the child/adult challenged with this type of disability an opportunity to safely access diverse life experiences resulting in improved communication and social skills.
Sensory issues are mitigated and targeted behaviors are utilized to develop signals or commands for the Service Dog.
The dog's presence provides a positive distraction, calming and a unique sense of security to the recipient
and their family.
Anecdotal evidence suggests that abstract and concrete thinking advance, focus improves, and the length of attention span increases.
Emotional outbursts occur less often and with less intensity.
Improved self-esteem results from the unconditional companionship and access to participation in the greater community.
Objectives:
A certified FASD Service dog could provide:
"Social lubrication" creating a more neutral possibility for interaction
Positive sensory input; tactile opportunity for calming; and deep pressure
More independence and autonomy
Improved self-esteem through unconditional companionship
Increased sense of security as presence of dog addresses attachment and abandonment issues
Limey's story is available in Kenneth G. Moores' book Makin' It to I do.
Limey retired after a little over a year of service – his work was successful and he lived out his life with Jodee and Karl Kulp and members of his initial puppy family.
Can't believe you are gone big boy – your life was well served from being the first service dog in the world for a person with FASD – who is now living interdependently, married and soon to be a father – you gave him freedom to life. While teaching me the depths of dog communication you gave me understanding to help many families of fear aggression and dog humor. From laying against my fractured back while it healed – you gave me flexibility and the courage to push through. You helped me really understand that dogs can figure hard things out, they can learn colors and numbers and obey written words. I will miss your laughter in "wait a minute stealth" I will miss having to put up all the stop ya's so you couldn't get through – you are the only guy I know who can push open the sliding door, open the next door, open the next door, run down the stairs and unlatch the front door – and if you were thirsty get into the bathroom and open the lid and shut it before you got caught.
Limey you will be missed. So glad you let me hold you last night – We wonder why you left so soon. The rainbow bridge got a real keeper.
-Jodee Kulp
Save