MEET CHANCER – Hi, I'm Chancer and I became the first service dog placed with a child living with FASD. The organization that trained me is called 4 Paws for Ability and they have placed many more FASD service dogs around the world for children living with the challenges of FASD. My boy, Iyal, is now a young man with a new dog named, Quinn.
Iyal is working at a food store and doing a great job as a responsible adult. I am so glad he and I were able to "grow up" together!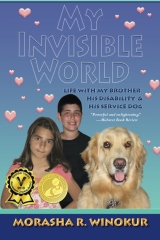 MY STORY – As a puppy I lived with my mom and dad and then was adopted by a family who neglected me. I don't think they meant to but I was very, very sad. And lonely. Finally, I got rescued by 4 Paws for Ability and they decided I could work with my very own boy. His name is Iyal Winokur only he is no longer a boy, he is a man with a different service dog named, Quinn.
I am in semi-retirement but I still help Iyal calm down and always feel loved. Quinn is my new little brother and best friend, and he is learning from me all the time. 4 Paws for Ability was right when they took a chance on me to be a service dog for a child living with FASD. Iyal was my boy and my handler was his mom, Donnie. Some of you know her. She speaks out for people like Iyal and I bark for him. Iyal decided I could participate instead of him. He's busy getting on with his life – He works, is very involved with sports and  hangs out with friends.  And of course Quinn goes just about everywhere with Iyal and his family. My job with Iyal is changing as I move into retirement. But you know, if Iyal becomes upset, both Quinn and I immediately go to him to help him become more stable.  I also offer the calm stable force for Iyal's mom and dad. And they continue to love me as a member of the Winokur family.
STRENGTHS – I provided a way for Iyal to feel more comfortable in social situations so he could make friends. I comforted him when he was overwhelmed or upset and I kept him safe. He could always count on me.
STRUGGLES – Take my service vest off and I am OFF DUTY – all the things a good service dog does not do – well I try doing them when I am not working… leave me your sandwich on the table please. Uh huh? What sandwich I didn't see a sandwich. That stuff on my mouth? Oh, it was always there.
WISH – That having a dog like me was not so expensive for families and special kids – that someone would figure this out – MORE DOGS – MORE KIDS.
XoXoo
Website http://TheChancerChronicles.com
Email – thechancerchronicles@gmail.com