MEET SAVANNA – Savanna is a Life Strategy Coach helping people support FASD. She co-chairs the Hamilton FASD Caregiver and Parent Support Group and the Youth and Sibling FASD Support Group along with her cognitive translator/external brain Mark. They also launched a FASD support group website (http://www.hamiltonfasdsupport.ca).
Savanna is an adult living with FASD who recognized that she had FASD at age 35 after having been repeatedly misdiagnosed and therefore did not receive appropriate support. Having only been officially diagnosed in May 2015 at age 47, she struggled over her lifetime with the secondary & tertiary disabilities of FASD. Despite her life challenges, she graduated from Humber with Deans Honors from Funeral Services Education and worked as a funeral director before she shifted her life focus to supporting FASD.
In her recovery journey, she has taken a number of trainings such as mindfulness, dialectal behavior therapy (DBT), spiritual counselling, meditation, and yoga. She received her certificate in Diane Malbin's FASD Neurobehavioral training: Understanding and Application of a Brain Based Approach. She also completed the Children's Aid Society four part FASD course.
She uses her life experiences and training to not only help her cope with her own FASD,
but to also help people understand and support those with FASD.
She has spoken to professional FASD caregivers at numerous conferences, students pursuing Social Work studies, and was interviewed by CTV News at the annual FACE (Fetal Alcohol Canadian Experts) conference as well as a number of newspapers to promote awareness of the challenges of FASD.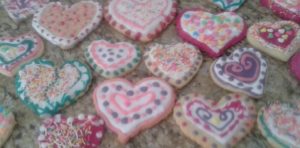 She assists RJ Formanek administer his successful Facebook FASD support group; Flying With Broken Wings.
She wrote a blog on the reasons for meltdowns that is used by FASD support sites across the globe. Her blog has been described as explaining the reasons for meltdowns in a manner that none of the professionals have ever been able to do! Savanna recently completed a Voice of America global online radio broadcast on FASD.
She brings her FASD Service Dog in Training; Sasha, to numerous FASD events including visiting children at the Psychiatric Unit at McMaster Hospital, to the Hamilton School Board's FASD CAmPABLE for children, as well as to the parents and youth support group meetings. She realizes the power of compassionate healing and calm that animals possess and wants to share that with children struggling with FASD.
Savanna is not a professional speaker … rather she speaks from her heart candidly explaining her life experiences, her struggles and trauma and how she learned to cope through adversity and hard work with living with FASD …she learned how to turn her disability into an ability to help others!
SUPPORT GROUP IN HAMILTON, ONTARIO
FASD That was easy – changing viewpoints – a grandmother's visit to SavAnna and Mark's support group
I recently invited three friends to attend the Hamilton (Ontario) FASD Caregiver Support Group, hosted by Mark Courtepatte and Savanna Pietrantonio. The group meets on the last Saturday of each month, and is attended by caregivers and guardians of children and teens with Fetal Alcohol Spectrum Disorder. Its informal environment allows for the exchange of frustrations, references to services, discussions of prayers, hopes, and dreams for the children, the release of anxiety, and the reassurance that one is not alone in raising children with FASD.On my invitation, my friends graciously agreed to attend. Though they knew little of FASD going in, when the session began, it took only minutes for their eyes to be opened to the realities of Fetal Alcohol Spectrum Disorder, and how it plays out for the majority of families. Here, in my friends' own unedited words are their thoughts on how that group meeting affected them.Heather… "Glad you could make it," said Barbara, as I walked into the conference room and took a chair beside her.  Barbara had invited members of our writing group to attend her monthly group support meeting. It was my first time at an FASD meeting. I thought I knew what to expect. The room soon filled to the brim with parents, grandparents, and young teens. A family sat next to me; Mom, Dad and two daughters. The girls were loud, boisterous, and unsettled.  They twirled in the rotating chairs, bumping my chair as they fidgeted. They couldn't sit still for more than a few minutes. When the meeting began, they giggled and talked to each other, instead of keeping a "respectful" silence. Wow, I thought to myself, if these girls acted like this in church, or at a school play, or somewhere else, I would have 'tut-tutted' and been annoyed their parents didn't discipline them. Maybe I would have thought they had ADHD. I may have assumed the girls had not been taught "civilized" manners by their parents. But because I knew their condition, I simply sat quietly and accepted them.  I didn't know much, but I knew FASD children had behavioral issues.However, I didn't know those girls were jumping out of their skins in that conference room. I didn't know that crowds, loud noises, changes to daily routines and strangers made it impossible for them to remain quiet. I didn't know they left the room to get relief from the atmosphere they were in. I didn't know it was a coping mechanism they used to keep themselves from unraveling. It seems I knew little to nothing about the behavioral issues of FASD children.I soon learned how difficult the job of an FASD parent is. Discipline, I discovered, is the exact wrong thing to use. Yelling at a child with FASD increases the problem. Quiet reasoning, understanding and respect are required. Repetition is necessary. Vigilance is needed to keep the children safe, because FASD kids lack the ability to fully understand the ramifications of their actions. I had no idea the strength and tenacity it takes to be a parent of one of these children."The mental healthcare system needs major training in the area of FASD treatment," said the facilitator of the group. "Misdiagnosis is rampant. Doctors often lack the knowledge to differentiate FASD from ADHD, autism, and other conditions. Medications used to treat these other conditions are drastically wrong for kids with FASD. Changes are coming slowly as the medical field starts to understand what parents of FASD children have been saying for years."How was it possible that doctors knew little more than I did? And not only doctors! Teachers, caregivers, social workers and adoption agencies are woefully under-educated about this syndrome. The public, too, is drastically uninformed. Changes are coming in these areas, but once again, time is crawling by. Parents are left to lobby for funding and assistance, to educate the public and to support each other until the changes come. Parents and children of FASD have been suffering alone and misunderstood for decades, perhaps for centuries. I say centuries, because I also learned that FASD can manifest itself in a child across three generations. And the condition can come through the father or the mother. I had often misjudged mothers of FASD children. I thought I knew it all about those mothers. They must have drunk alcohol throughout their pregnancies. How could they be so careless, selfish and neglectful? Well, guess what? Even one drink may be enough to cause FASD in an unborn child!  And that drink may have passed the lips of the mother or the father. I was astounded to learn that any of us on the earth could be affected, since it is certain that very few had parents, grandparents or great-grandparents who never imbibed a single glass of alcohol. No, I didn't know much about FASD at all, until I attended that FASD support group. I listened in awe to the stories, challenges and advice discussed by those who are passionate about and affected by FASD. I learned a lot. But, the most important thing I learned is that it is so very easy to pass judgment while living in a world shrouded in ignorance.  It's a lesson I won't forget… Heather.Viga… I recently attended an FASD group meeting that dispelled any illusions I had about the long-term, very harmful effects of drinking alcohol while pregnant. I was unfamiliar with FASD until I read Barbara Studham's remarkable book, "Two Decades of Diapers". What I read there both concerned and shocked me, especially since I have a teenage granddaughter who has always exhibited many characteristics of FASD children. As so many parents and doctors do, I had put her often-upsetting behaviours down to ADHD and/or Dyslexia.

After attending the FASD support group, my suspicions were confirmed: I learned that a mother, even having just one drink when she doesn't yet know she's pregnant runs the risk of having a child with FASD. Sadly, I now have to conclude that my dear granddaughter may indeed be an FASD child, not ADHD. At that meeting, if was further upsetting to learn from parents of FASD children that the medical profession is far from enlightened about FASD and prescribes meds for ADHD instead. This is unacceptable!

My friend, Barbara Studham's books: Two Decades Of Diapers, and, Fetal Alcohol Syndrome: The Teen Years, will shed much needed light on this issue. I highly recommend that groups interested in knowing more about FASD read Barbara's books. This is a woman who has lived with what she now writes about to help others. Invite her to speak to your groups. The child you help may well be your own… Viga. 

Karen… My knowledge of FASD was very limited until I had the opportunity to visit a meeting of the Hamilton FASD support group. I learned that although most children with FASD 'look normal' they do have issues with attention span, behavior and authority. I also learned that there are various degrees of FASD and that all have been recently acknowledged under the umbrella of FASD. Some children with FASD are very bright and do well in school academically but are emotionally exhausted by the end of the day resulting in 'melt downs' at home. These children require a lot of 'one-on-one' sessions to understand and control their outbursts. Others are bullied because they don't fit the norm and have learning difficulties.

It was interesting to see the working companion FASD dog in-training brought to the group by an attendee with FASD. This puppy was progressing so well that he diffused two melt-downs during the meeting. This dog had just returned with his trainer from an FASD conference where, we were told, he sat patiently through the full two days of meetings.

All the parents attending the support group appeared to be adoptive parents who were championing for these children. They are advocating for diagnostic testing, support to work with the children, and education of the public. This was relevant for me as I'm involved with a Youth Leadership Program and need to be aware of the possibilities affecting personalities… Karen.

Changing Viewpoints

From the above comments from my friends, you can imagine my delight at their learning so much about FASD from only one group meeting. This proves that getting information out on FASD is vital. So let's get it in the medical community; schools; the workplace; on social media; in women's group; community meetings, and anywhere else possible! Tell your friends, family, colleagues, and anyone else you know about the problems related to drinking alcohol during pregnancy.

If you would like more information on the Hamilton (Ontario) Caregiver Support Group, please visit this website:
Save