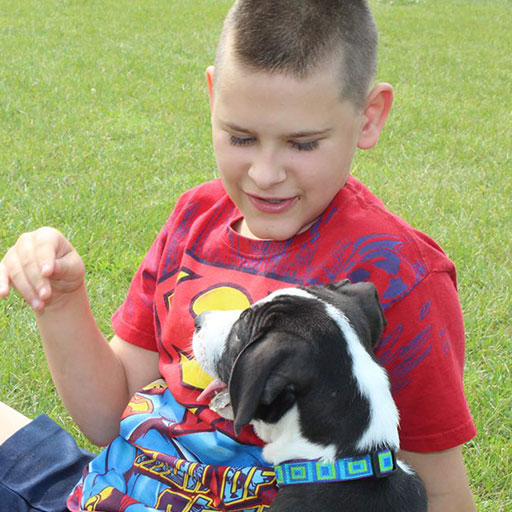 MEET DAKOTA – Dakota is 12 and diagnosed with FAS. He is a young man with few words, except super heroes, Legos and his Puppy Chester. Chester a Boxer Lab mix and is now a year old. He came from a rescue and the kids love him so much. They love that he was adopted too. Then we rescued Lucy last winter. Chester needed a friend.
MY STORY – Dakota was born 6 weeks early. He was born in Grand Junction Colorado at St. Marys Hospital. Dakota was in the NICU for 2 weeks. Dakota was then sent home at that time to his parents. Home health was involved. When Dakota was 10 months old, we were contacted through Social Services to see if we would like a visit. That visit turned into to Dakota, and his sister Megan and the parents all coming to Minnesota. After many attempts failed we took permanent custody of Dakota and Megan. Dakota was diagnosed with FAS and Micro deletion Syndrome. At the University of Minnesota in 2009 we had wonderful Dr.s. We live closer to Sioux Falls SD so we transferred them to Sanford Children's Hospital. Then re diagnosed again with FAS in 2012. They have been a wonderful life rope for us at times. We have met some wonderful Dr.'s and staff that we will forever be grateful for with all 3 kids. Little did we know or Dakota at that time that in May 0f 2005 when they came to live with us. That the wonderful staff at St. Mary's in grand Junction had kept such good notes and knew to cross reference when this beautiful little girl was born needing so much help in Jan. 2006 that she was in deed his baby sister . The hospital knew what to do and who to contact. We still to this day thank him for helping save Aprils life. Also this little boy needed help himself way back in 2004 when he was just an infant. Home health knew he needed help and contacted the right people and helped get his 19 month old sister and him the correct help. Dakota to this day will still work hard to overcome his struggles! he gets frustrated but given time and the quiet he needs he processes his thoughts through. Dakota will tell you that his family is the most important thing in his life. I am a little bias. I still get a kiss every night and told I am the good Mom. I will take it and cherish it forever. He was adopted with his 2 sisters on Oct. 2nd 2006.
STRENGTHS – My grandma lives with us and I help her she is 85 years old.
1. Builds Legos headquarters and Super heroes
2. Family oriented loves family
3. Organized loves routines loves to help with dishes.
I design my Lego headquarters. We've got many Legos!
Tell him those are awesome strengths Ann Yurcek is also on her 3rd family – that is Mac and he is a multi diagnostic kid – should not be alive –
STRUGGLES – He wants people to understand him better (he talks very fast or mumbles) Speech therapy does help but we have came to understand that is Dakota. You can ask Dakota to repeat a sentence 20 times and he will. He says his other struggle is reading I want to do better. It is so hard.
MY WISH – People ask me what is Dakota like my answer and my husbands is Dakota is Dakota. Here is why I said if you had on wish about FASD or any wish what would it be. 1st that everyone would understand that its OK to be different. No bullying. Then he said I have the good mom now!
Save