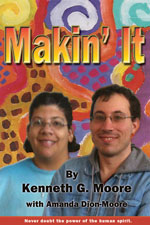 MEET KEN – Ken is a 31 year old husband and father of a toddler. In 2007, Ken had lived in group home environments, residential or foster care for 13 years. His dream was to become independent, get married and someday have a child. Today, Ken is an excellent dad and his son's eyes light up when he walks into the room. He is the author of Makin' It ! His story of his journey through many systems.
MY STORY – Ken was in foster care and adopted. He struggles with Tourette's, autism, FASD, and many other of the little D's but this does not stop him from living a happy life. Ken is a person of many firsts. Ken was the first person in the world to have a service dog for FASD to bridge his journey to independence. Limey is part of his story in Makin' It. Ken and his wife have a loving home an impossible dream while he was still in residential care. And that's another part of his story in his book.
STRENGTHS – Creative artist, hard working, dedicated, loyal, friendly, out going, kind, funny
STRUGGLES – Acting my shoe size instead of my age
WISH – My dream is to eventually create a gallery/coffee shop in a natural environment for persons with challenges to share the beautiful work they create to the public. A place where everyone can get to know persons with challenges for the beauty they share. A place where we can do art, cooking, craft and music classes together with people of all abilities and ages. A safe place that becomes a natural community care café.
I am available for presentations – message me at facebook
To buy my book – here is the link "Makin' It"
Interview with Kenneth G. Moore
Excerpt from my book:
"Makin' It" is written through the heart and mind of Kenneth G. Moore who was born with many intellectual and physical challenges. Read as Ken faces each of these challenges with strength and creativity. "Makin' It" offers a rare opportunity into the reality of living with multiple life challenges like FASD, ADHD and Tourettes. Also learn how a service dog, Limey offered a new direction for Ken's life.
As I am sharing my story I am realizing how exhausting pulling out my memories are. They are little pieces of my life and me, some of which I have left hidden and never shared. But as a grown man I really want to help young people and families to avoid some of what I lived through. And perhaps give understanding to adults and professionals who think they know what they know and miss out on some of our truth.
What people don't realize is that when I am learning new skills my mind is already filled with information and it is busy trying to organize—one more piece can be overwhelming – and it can be SO tiny! OR at least it starts out tiny and then it explodes. Perhaps by understanding how I am thinking my life and am living my life, this book can help another person and family.
If you have challenges know that you are not alone in this. I hope you find my book easy to read, I have kept the typeface big to help in the reading for everyone.
Please realize I am just one person living with multiple disabilities. My life and experiences might or might not be true in some other's eyes.
My life happened as I remember it, so, for the people that think it is true, they can actually think its true. But for the people that think it is not true, they can disagree with it and go on with the book. They can agree with it and understand it, or they cannot agree with it but still understand it. I say this so people can decide for themselves. It is the way I experienced living through my life and the challenges I live with every day.
Writing this book has come from my heart. I have merged my original two books I wrote when I was younger with my understanding I have now that I am older. For those books I started typing and words came out like a snap. Usually kids with the disabilities like I have don't write a lot. But I love writing. Since I wrote my first book, The Boy Who Has a Good Life I have loved writing.
All of these disorders of mine make it hard for me to understand and live, but I'm writing this and I love it a lot even though at times I got frustrated and started getting dizzy just looking at it and I got overwhelmed. Still it's fun and active. And if no one reads this, at least I'm doing something to occupy myself.
One time in my life I did not even know what support was but now I do. Support is anything that you can learn from mistakes. When I was a kid I got a lot of help from a lot of other people besides my mom and dad that helped me grow-up to the man I am now.
Thank you.
Kenneth G. Moore
Save
Save
Save
Save
Save
Save
Save